For a lot of people, video games are a means of escape. A way to disconnect from the stresses of life and fall into another world where you call the shots. However, life can often pop up in games and disrupt the illusion of being in that other world, and what does that better than some good, old fashioned product placement?
Sometimes product placement in games is subtle and blends into the environment, and sometimes it's blatant and kind of disgusting. Let's take a look at the top five most shameless, overt corporate advertisements in video games.
#5: Subway in Uncharted 3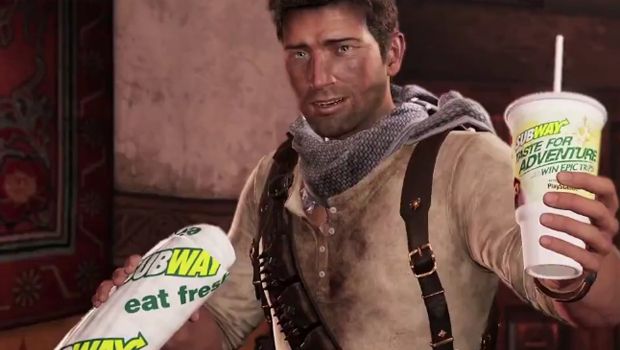 We're not sure why, but Naughty Dog teamed up with Subway to bring some strange product placement to Uncharted 3's multiplayer mode. The PR strategy started with a real-life commercial for the sandwich chain starring Nathan Drake and continued in-game with Subway shirts, cups, and five-dollar-footlong jingles. Thankfully the advertising was kept out of the game's single-player campaign, but the blatant logos still felt pretty invasive while in multiplayer.
#4: Everything in Pikmin 2
In Nintendo's Pikmin 2, players crash land on a mysterious planet where they're roughly the size of ants. Captain Olimar must repay his employer's debt by collecting treasures, which are mostly regular items like batteries and bottle caps. It sounds like the perfect method of product placement, and Nintendo really ran with the concept. Just a few of the corporate treasures include Duracell batteries, multiple brands' bottle caps, Skippy peanut butter, Carmex lip balm, and Kiwi shoe polish.
The branded items blend into the Pikmin world better than others, but the list of product placements is way too long for a single game; Pikmin 2 had to crack the top five.
#3: Mercedes in Mario Kart 8
Probably one of the first game product placements to pop into my mind was the obvious and way-too-out-of-place Mercedes Karts in Mario Kart 8. They're sleek. They're shiny. They're Mercedes. And they don't work with the colorful, stylized world of Mario at all. I roll my eyes every time I see them on my Kart list and refuse to drive them on principle. Nintendo already made their money off the deal, but it makes me feel a little better.
#2: Cup Noodles in Final Fantasy XV
The most recent and probably the silliest example of product placement has to be those freakin' Cup Noodles in Final Fantasy VX. While some games put the logo or branded item in the environment without calling more attention to it, FFXV took the time to say how delicious and easy-to-make Cup Noodles are before the characters stop at a booth selling the product. The product is brought up multiple other times as well. It all feels very out of place and way too corporate shilly.
#1: Verizon and Energizer in Alan Wake 
While all the product placements on this list are glaringly obvious and pretty annoying, Alan Wake takes the cake for its repeated, overt Verizon and Energizer promotions. There are Verizon billboards, a "Can you hear me now?" plug, and a game achievement unlocked by watching actual commercials on TV.
Also, Energizer batteries are everywhere in Alan Wake, a game where you're constantly needing more power for Alan's flashlight. The batteries fit in well enough, but the Verizon promotions are the definition of shameless, distracting, and annoying product placement.
What do you think of video game product placements? Did I miss some of your favorite — or least favorite — ones? Let us know in the comments below!