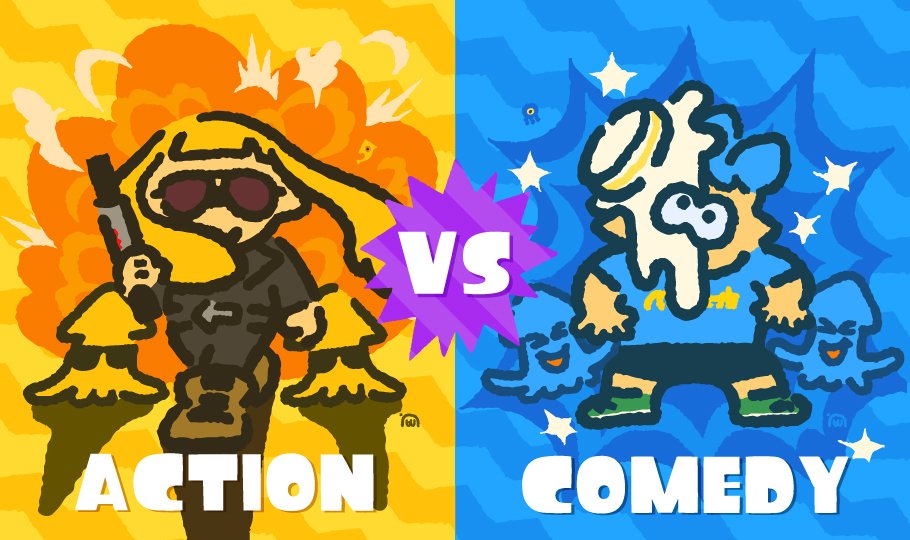 The first Splatfest of 2018 is coming up soon in Splatoon 2, and the multiplayer event is finally going global again. After several regional Splatfests where North America, Europe, and Japan all had different themes and dates, the upcoming event will invite players from all across the world to participate in the Splatfest during the same time period, beginning January 12th at 8:00 p.m. PT.
The Splatoon 2 event was announced recently by Nintendo's official competitive multiplayer Twitter account. As for the theme of this Splatfest, Nintendo is bringing back a fight between movie genres with Team Action vs Team Comedy. A similar theme was given to North America with the Sci-fi vs Fantasy Splatfest, but this time the whole globe can duke it out over their preferred movie style.
Be sure to pick your team before Pearl and Marina take the stage and the Splatfest starts up. To do so, head to the video screen in Inkopolis Square and select either Team Action or Team Comedy. You will then receive your Splatfest tee, which you should pop on your character for several matches before the event to unlock an ability or two. Splatoon 2 Splatfests are scored with three numbers: popular vote, solo wins, and team wins. The event will run for a full 24 hours before the results are tallied.
The next global Splatfest in Splatoon 2 kicks off next Saturday, January 12th, at 8:00 p.m. PT / 11:00 p.m. ET. Will you represent Team Action or Team Comedy? Let us know in the comments below!